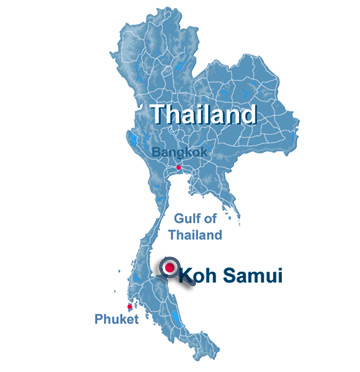 Airport Samui
Samui Airport is one of the most picturesque airports in the world. A unique and highly successful experiment, it is kind to both the cultural and natural environments on Koh Samui and has been voted as one of the "Best Airports in the world" for several years running. Flying in to Samui, visitors enjoy glimpses of outlying islands with turquoise calm waters surrounding the coast. Two hundred and fifty kilometres of tropical landscape draw visitors year round and Samui airport handles over 6 million passengers and more than 15,000 flights per year.
Samui Airport serves domestic and international flights to and from Bangkok, Phuket, Krabi, Chiang Mai, Pattaya (U-Tapao) and Krabi, as well as  Singapore, Hong Kong, Penang and Kuala Lumpur. The entire facility is owned and operated by Bangkok Airways, who operate the majority of flights, with added arrivals through Thai Airways international flights, Berjaya Air and Firefly airlines.
Located close to the island's north coast, the airport opened in April 1989. It was relocated in January 2008 at cost of  500 million Baht with four new domestic terminals and two international terminals comprising a total passenger area of 73,000 square meters. The new Samui airport accommodates up to 16,000 passengers a day. The check-in area caters to all domestic and international departures, while a new the "meeting point" has been designated for all arriving passengers. The new development also includes a walking street, connecting the passenger terminals, with boutique-style shops, cafe's and restaurants on either side. 
Bangkok Airways is Thailand's largest privately owned carrier and first began air transportation services in 1968. The airline initially provided charter services for companies engaging in oil and natural gas exploration in the Gulf of Thailand. Due to the rapid growth of tourism and investment in Thailand, air transportation has become an increasingly important factor in both the Kingdom's economic growth and its infrastructure development. In order to meet increasing demands for air transportation, Bangkok Airways first introduced scheduled flights from Bangkok to Krabi, Korat, and Surin.  It later invested in building and maintaining privately-operated airports at Samui, Sukhothai, and Trat. These developments now provide visitors to Thailand with a greater choice of destinations and better flight connections.
The company plans to turn Koh Samui into a second regional hub after Bangkok's Suvarnabhumi Airport. In 2009, it added to an existing fleet of  A319s in order to boost capacity and cater for longer flights from Singapore and Hong Kong. The bulk of Bangkok Airways' flights originate in Bangkok and a substantial number of its passenger traffic is between Bangkok and Koh Samui. With a limited number of international flights, Samui Airport is still considered a domestic airport catering mainly to foreign tourists on connections from the capital.  But Bangkok Airways operates an average of 15 flights per day on the Bangkok to Samui route, plus daily flights to and from Singapore. Thai Airways also flies to Koh Samui using its Boeing 737-400 aircraft, which  carry up to 149 passengers on a twice daily service.