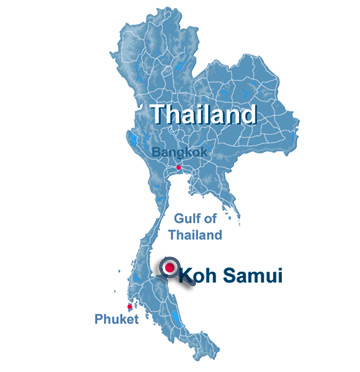 Transportation upon arrival -
Car transportation can be arranged from the airport to the Villa. Alternatively you can hire a car in advance and have a representative meet you at the airport with the hire car. There are many hire car firms available on Koh Samui including Avis, but you may also like to try, www.samuitacarrent.com or www.thairentacar.com. Both have reliable vehicles at good prices.
Directions from the airport to the villa, which is located in the northeast corner of Samui (close to Four Seasons Resort):
Turn left when leaving the airport until you reach a T intersection.
Turn left at the intersection and drive for approximately 4kms until you reach another T intersection.
Turn left again and after driving for approximately 150 meters you will reach a set of lights.
At the traffic lights turn right. You should then drive approximately 12km and reach a steep hill which you should drive up approximately 500 meters.
Close to the crest of the hill there is a road to the left (the only one). Turn left onto this road.
The road is quite windy and steep and after approximately 250 meters you will reach the first house on the right hand side... you have arrived!
To download a driving map, please click on the Map of Thailand.