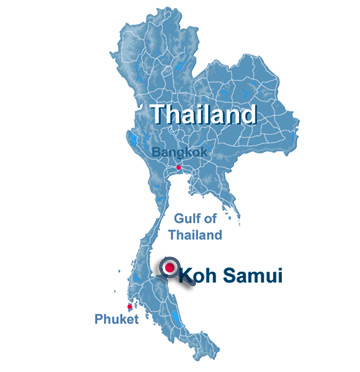 House for Rent Koh Samui


Renting a house on Samui is an affordable and private way to enjoy a holiday close to the sea and many of the properties now available around the island offer similar facilities and services to those provided at 4 and 5 star resorts. A private house also gives guests more independence and freedom with regard to how they spend their days, both in terms of timing and activities. There are no set mealtimes to adhere to, no compulsory dinners during peak seasons and, of course, no competing with fellow guests for sun bed or poolside spaces as so often happens at a hotel or resort.
Many of the private houses and villas available for rent on Samui are located in picture perfect settings, either right by the beach or high on a hillside overlooking the dramatic tropical coastline and offshore islands beyond. Peace and privacy are virtually guaranteed, as is a full suite of comforts and services that help guests enjoy a relaxing, stress free holiday in paradise.
Villas like Blue Samui on the island's northern coast are the perfect choice for families looking to spend some quality time together, but still with enough space for everyone to combine personal and social time. Like many of the island's villas Blue Samui is built around a sun terrace and pool with fabulous views from almost every point in the house. The lower level living area literally folds open into the scenery, blurring the distinctions between indoor and outdoor living to create an appealing, contemporary tropical escape. Thanks to its generous size, Blue Samui epitomises the advantages of private island living with a spacious upstairs master suite, two guest bedrooms and a fully equipped kitchen with every modern appliance.
Whether as a holiday let or long term rental, luxury villas like Blue Samui offer guests an attractive alternative to hotel and resort style accommodation. Competitively priced and located within easy access of all the island's top sights and amenities, these properties offer a true 'home away from home' and allow guests to enjoy absolute peace and freedom during their stay on one of Thailand's top holiday islands.