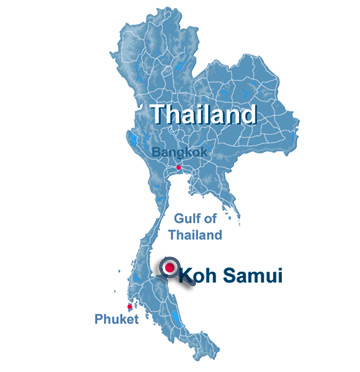 House Rent Koh Samui
As a result of the second home property boom that took place on Koh Samui in the early nineties there are now a large number of properties available rent around the island either as long term residences or for shorter periods as holiday accommodation. Visitors can choose everything from simple bungalows to extravagant luxury villas and the range of locations on offer is as vast as the choice of on-site amenities. Stand alone properties are particularly popular and many of them are situated just a short drive from from the main tourist beaches on Samui. This means couples, families or groups of friends sharing a house can enjoy total privacy and decide exactly how much time they wish to spend surrounded by fellow tourists.
In the mid-range price category, a private villa offers an inexpensive alternative to 4 and 5 Star hotel accommodation. Properties like Blue Samui near the quiet northern beach at Bang Po provide space and a range of appealing facilities for families or small groups. The 3-bedroomed hillside property is built on three levels, backed by tropical greenery and with spectacular views from its terraces and infinity pool. Stylish interiors and comfortable outdoor spaces create a relaxing family retreat with easy access to the island's main beaches and attractions.
Although not always directly on the beach, if you can live without the ocean on your doorstep, properties like Blue Samui offer a superlative island experience. Start with a late breakfast, laze around by the pool during the day, switching between your sun bed and a shaded sala, then move inside to the living area for dinner and a movie in the evenings. The kitchens have every appliance and accessory needed to create gastronomic delights and there's often an additional barbecue unit for those who prefer an al fresco feast. Being high up on a hillside also lets you catch the sea breezes and the only time you're likely to close the doors is at night, when you retire into the air-conditioned comfort of your bedroom.
Such personal indulgences make renting a house on Samui an increasingly popular option both for holiday makers and longer term visitors. The addition of high speed internet connections and WiFi access means some people now also choose to spend time working from their rental property. This allows them to extend their stay beyond the normal vacation period and enjoy the island lifestyle to the full.