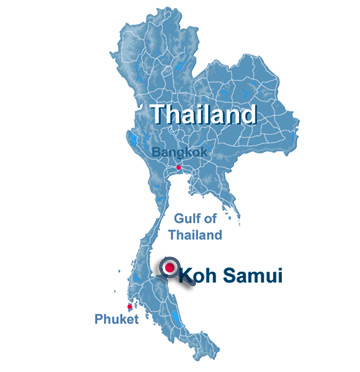 luxury koh samui houses
On Koh Samui the range of accommodation options is now vast and private, luxury villas and houses are becoming almost as popular as resorts and hotels. The benefits of renting or even buying a luxury house on Koh Samui are manifold. Firstly, you are guaranteed absolute privacy and the freedom to enjoy your holiday as you please. Then there's the added bonus of a private garden and swimming pool to enjoy without having to worry about other guests and their foibles. Many of Samui's luxury houses also benefit from stunning, secluded locations with breathtaking views and easy access to pristine beaches.
The recent property boom in Thailand inspired large numbers of regional and international foreign investors to purchase land and build extravagant private residences on the island. Many of these investors are only temporarily resident on Koh Samui and therefore look to rent out their houses while away. This means visitors have a wide choice of styles and locations to choose from with a good variety of bedroom configurations and on site amenities, including indulgent infinity pools, private spa facilities and fully integrated entertainment systems.
Agents and owners now also include onsite staff and services with most villa rental packages, providing a daily maid service, security and an on-call villa manager to assist with special requests, help make travel and tour bookings and recommend the island's best dining and shopping options. You can even hire a personal chef to prepare meals in the well-equipped kitchen or source provisions yourself and enjoy a totally private, self-contained holiday away from the tourist crowds.
Many of the luxury houses on Koh Samui have raised the bar when it comes to design and facilities. Hand picked furnishings, extravagant indoor/outdoor bathrooms and artistic accessories mean guests can enjoy the island's natural beauty amid stylish opulence. Even the more secluded locations offer easy access to Samui's most popular attractions and a constantly improving infrastructure, combined with a diverse choice of international routes to and from the island makes arrival and departure both easy and swift.