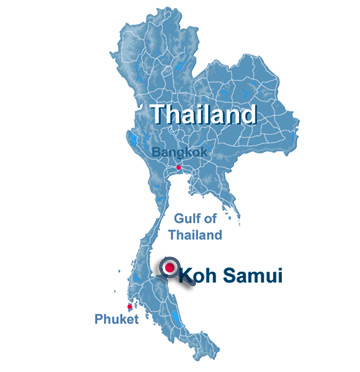 Koh Samui House Rental
As an alternative to staying in a hotel and resort, house rental is becoming a popular choice amongst visitors to the tropical island of Koh Samui. There's something refreshingly independent about renting your own house and with literally hundreds of properties now available in picturesque locations, you can quickly relax into your own, private world. Once you've stocked the fridge at one of the island's big supermarkets, the urge to venture out soon disappears. Samui houses and villas offer a more homely atmosphere than most hotels and abundant on-hand facilities let you set your own schedule, deciding exactly how much eating, lounging, reading and drifting you prefer between trips to eat out or visit local attractions.
If you a rent a property like Blue Samui villa on the island's north coast, superlative views from almost every point on in the house not only cement the sense of escape but also guarantee an added feeling of space and freedom. Like Blue Samui, many of the houses on the island enjoy a secluded hillside setting, which guarantees absolute privacy and makes them an ideal getaway for couples, families of friends looking to remove themselves from the stresses of city life.
Although some luxury villas come with a full team of onsite staff, including a dedicated manager to answer requests, make travel arrangements or recommend activities. Many rental clients still enjoy the freedom to take care of themselves. Most of the properties available for holiday rental come with at least two staff to clean and maintain the house and in most cases they are also happy to help out at mealtimes or even serve snacks and drinks by the pool. Extra hands can easily be hired for larger groups or special events and private houses are now become increasingly popular as wedding venues for couples looking to Thai the knot surrounded by warmth and tropical splendour.
Relaxing in the privacy of a rented house, simply enjoying the peace and views, is certainly one of the best ways to wile away the days on Koh Samui. There's really no need to venture much further than the pool and with so many beaches within easy reach you can easily head down to the nearest stretch of sand at sunset to watch the the local fishermen or relax in a quiet spot and enjoy the views to nearby islands. Wherever you chose to rent a property, a short drive will generally bring you to a choice of local and international restaurants, while the main tourist centres like Chaweng and Lamai also offer good shopping and lively entertainment.