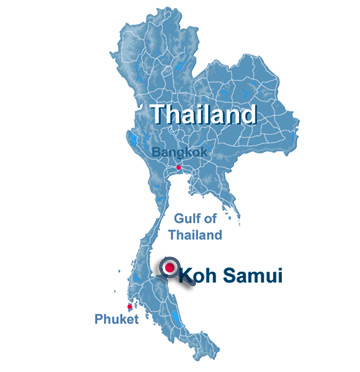 Rent Villa Koh Samui
The market for rental villas on Koh Samui has expanded at an impressive rate over the last 5 years. The sheer number of properties and villa developments now completed means prospective lessees have a rich collection to choose from either for long or short term rent. Quality facilities, dramatic locations and plush interiors mean holiday clients can look forward to a memorable stay, while for those in search of a lifestyle change, gated communities offer peace and security and often include all the benefits of a luxury resort.
At the top end of the market, Samui's extravagant beach and hillside villas generally feature 5 or more bedrooms and also come with indulgent extras like jacuzzi pools and private cinema rooms. Even the island's more modest properties generally have an infinity pool and open-plan designs mean lack of space is rarely an issue. Hillside villas such as Blue Samui offer stunning views from every room with balconies, terraces and glass doors literally coaxing in the tropical surroundings. Relaxing additions such as poolside gazebos add further to the appeal, while inside, flat screen TVs with satellite and DVD connections make evening lounging a pleasure.
Nightly rates for luxury villas can work out very competitive when compared to 4 and 5 star hotel accommodation, especially for families or friends sharing a property. Fully equipped kitchens also mean provisioning costs can be kept to a minimum as the fridge can be stocked easily and affordably at one of the island's larger supermarkets. Properties like Blue Samui combine total privacy with easy access to local beaches and amenities, allowing guests to sink into their own private holiday pleasures without the risk of being disturbed or bothered by fellow guests or strangers.
For those with the time and resources to stay longer, private villas provide an attractive alternative to long term hotel accommodation. With good negotiation skills, it is also possible to broker a monthly deal at some of the island's most attractive stand alone properties. For the same price or less than you would pay for a humble apartment in any major city in the West, you can rent a luxurious, often spectacular villa on Koh Samui and treat it as your home. This has inspired many new residents to really 'live the dream'.