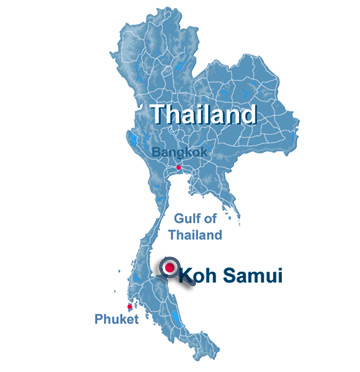 Restaurants & shopping -
There is plenty of shopping available on Koh Samui as well as a large selection of restaurants and bars not to mention, vibrant night life.
Groceries
There are 2 large Tesco supermarkets on Koh Samui within easy reach, with 1 located in Nathon which is a 5 minute drive from the Villa. Both have parking and pharmacies.
Take Aways
A number of local restaurants provide take away cuisine.
Local beachside restaurants
There are quite a number of local restaurants available within a few minutes of the Villa in both directions. They are generally locally run, have a menu that often includes both Western and Thai dishes, and are quite inexpensive. However, we suggest you are clear as to how spicy you want any Thai food you order!
Starfish
This very busy restaurant with its distinctly bohemian decor can be found at Fishermans Village in Bo Phut. Ask for a table on the balcony overlooking the beach and enjoy some typical Thai cuisine from an extensive menu which is very reasonably priced.
(15min by car)
Villa Bianca
Just a few doors down from Starfish you cant miss this Mediterranean styled restaurant. With a traditional Italian menu and complementary wine list, it has a very relaxed and friendly atmosphere that makes this restaurant worth at least 1 visit every time you are in Samui.
(15min by car)
Lan Tania
Located at the Four Seasons Resort and with stunning views, Lan Tania offers a choice of Thai or Italian cuisine. Diners may sit indoors, in air-conditioned comfort; outside on the terrace, cooled by gentle breezes; or in the adjoining Lounge beneath high thatched roofs.
(2min by car)
Red Snapper Bar & Grill
With road frontage in Chaweng, you can sit indoors in airconditioned comfort or on the roadside terrace and people watch. The Mediterranean style food is superb and after dinner you can enjoy some of the Chaweng nightlife at one of the many bars in the area.
(20min by car)
Sala Thai
You will find this restaurant with its very traditional Thai decor at the Bo Phut Resort and Spa. Set in the resorts landscaped gardens, dining at Sala Thai is a chance to savour the complete Thai dining experience, in exquisite surroundings. Highly recommended.
(12min by car)