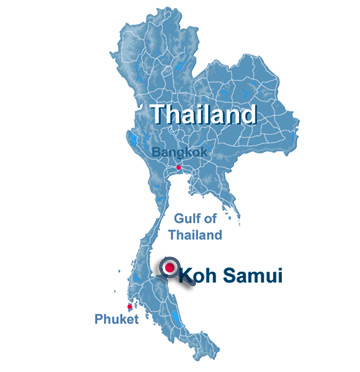 Koh Samui Luxury Villas
Nowadays on Koh Samui there is a wide variety of luxury villas available for rent, catering to all tastes and budgets. Villas which are fully serviced and managed, branded hotel residences, properties in the hills with spectacular views or beach side villas are all available for those in search of an idyllic break. The demand for family orientated, luxury properties as a second home or for short and long term rental on Koh Samui is rising year on year. Professional and top end agents have an impressive portfolio of these properties for interested buyers and tourists alike, while many villas like Blue Samui, also have their own websites and can be booked direct.
The services and facilities offered on Koh Samui are extensive,  daily maid services and even personal butlers and chefs can be arranged for the guests, but it's also possible to self cater with large supermarkets selling a range of international products and groceries. These luxurious villas have created a boom on the island for rentals, as well as attracting more buyers and investors. The top end market is well catered for with these beautifully appointed residences, affording all the pampering and indulgences one could want on a long or short term basis.
The opulence of many private villas does not compromise the simple things that an island has to offer. The often extravagant builds and furnishings are complemented by plenty of outdoor spaces, allowing guests to enjoy the unparalleled views and beauty that surround this tropical island. Large landscaped gardens and infinity pools make the outdoor life as appealing as the villa itself and ensure guests get the most out of the beautiful natural surroundings whilst relaxing in peace and privacy.
The luxury villa market is relatively new to Koh Samui and is therefore an additional appeal for buyers and investors looking for a long term yield. Although the amount of villas is on the increase, it is still possible to buy or  construct a property in an undeveloped area and avoid close neighbours and other interferences. The buyer or rental guest is assured privacy and peace, but is never far away from shops, restaurants and things to do around the island. There are few places left in the world that this kind of island life can become reality.