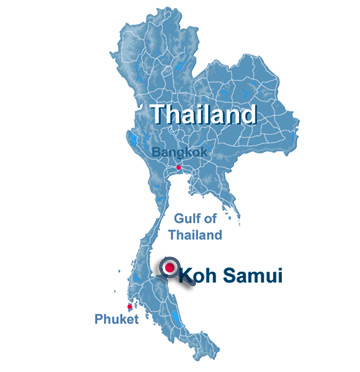 Flights from Singapore to Koh Samui
Bangkok airways now offers direct flights from Singapore to Koh Samui, creating fabulous holiday options for Singaporeans and expats alike, whether for a weekend break or a 2 week holiday. Singapore is also a major hub in the region for flights from Europe and Australia, which means international tourists can enjoy shopping in Singapore, then in just 1 ½ hours be on one of the beautiful Samui beaches.
Bangkok Airways' route from Singapore to Koh Samui offers an easy and affordable way to reach the island directly. Much more convenient than travelling overland through southern Thailand and Malaysia or going via Bangkok. In 2009, the airline added A319s to boost the capacity for the longer flights to Singapore, which now leave daily. Samui airport is one of the most appealing tropical hubs in the world, while Changi Airport in Singapore is the world's seventh busiest international airport and was voted the world's best airport by Business Traveller (UK). There are now 4 terminals and Changi welcomes 80 international airlines, flying to 200 cities in 60 countries around the world with over 37 million passengers a year. Changi Airport has also become one of Singapore's biggest shopping areas with concessions from many popular high class brands and an array of technology shops. There's also a full range of facilities, from a children's playground to health and beauty treatments, restaurants and business services.
On a few days stopover in Singapore there is an enormous variety of things to do apart from enjoy the city's amazing shopping and dining opportunities. The Botanical gardens are a must see, with walks through virgin rainforest, while China town boats homes and streets from the late-19th century and early-20th century that have been beautiful restored. Singapore Zoo is also great place to visit, not only to watch the animals, but also to learn about wild life conservation.
Once you arrive in Koh Samui from Singapore, more variety awaits. Accommodation ranges from 5 star hotels and villas to boutique and budget options, so there is something to suit everyone. Apart from lazing on the palm fringed beaches and swimming in the turquoise waters there are plenty of attractions to visit and things to do. Diving is one of the most popular options and visitors can join an Open Water Dive Course, then visit some of the best dive sites in the region. Safari tours around the island  take in some of the most interesting temples and amazing view points, and even include an elephant ride. A favourite trip from Koh samui is on a boat to the unspoilt Ang Thong National Marine Park, where you can snorkel and kayak in stunning, unspoilt surroundings. There are countless restaurants, bars and clubs to keep you busy in the evenings on Samui. Just a 90 minute flight brings these 2 worlds together for a perfect combination holiday.