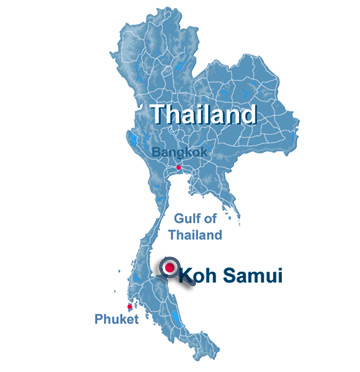 koh samui luxury villas for holiday
In the last five years, regional investors from places such as Hong Kong, Singapore and the Middle East began to choose Koh Samui as a their preferred second home destination. The low cost of construction allowed them to build luxurious homes in stunning, private locations and this, in turn, stimulated a healthy rental market as owners sought to generate yields from their investments when they were back in their resident countries.
The number of  luxury villas now available for sale and rent on Koh Samui is vast. Holiday rental clients can now choose from an extensive portfolio of luxury villas located in almost every part of the island, and many are offered at rates that compete favourably with 4 or 5 Star resorts. A large number of Koh Samui villas are located  right by the island's soft sandy beaches, which makes the island unique as a private holiday destination in Asia. Hillside villas are also becoming increasingly popular, as they offer total seclusion, cooling breezes and some of the most stunning coastal views to be had anywhere in the region.
Luxury holiday villas on Koh Samui offer anything from 2 two 1o bedrooms, with double and twin configurations making them ideal for groups of friends or families to share. Service concepts have also expanded to cater for an ever more sophisticated rental clientele. Daily maid service is standard in most properties, as are gardeners and security guards. Many luxury villas also come with a team of dedicated staff to arrange trips and tours, recommend attractions and even prepare and serve delicious meals for guests during their stay.
Luxury holiday villas on Koh Samui  are also increasingly popular venues for weddings and celebrations. Couples can rent a property for their holiday and combine the wedding ceremony and reception with their stay, inviting friends and family to share the stunning surroundings. Private luxury villas offer an unforgettable personal holiday experience. The combination of comfort, style and tropical surroundings with easy access to transport and amenities guarantees the holiday of a lifetime.