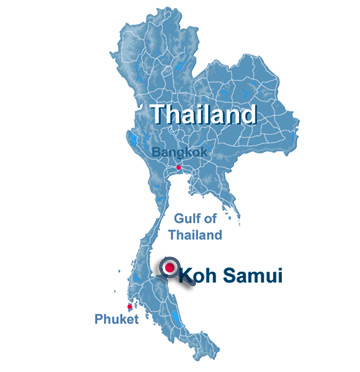 Koh Samui Luxury Properties
Despite the current global economic climate, investors worldwide continue to consider the luxury property market on Koh Samui. The infrastructure, opportunities and amenities on the island have steadily improved in recent years, and therefore the interest from national and international investors, as well as developers of luxury properties has also continued to grow. As a result, Koh Samui has now become one of the most popular options in South East Asia for top end villas and luxurious holidays on a tropical island.
High- end, luxury properties generally have price tags to match, but in relative to their counterparts in the West, they still represent excellent value. Consequently, sales have shown a considerable growth and this has increased confidence in further construction and development within the luxury market. Many of these luxurious villas are located in remote parts of the island, for example the northern and southern beaches, affording clients peace, uninterrupted views, pristine beaches and a real sense of a tropical hideaway.
The prices for high end villas on Samui range from 40 – 100 million baht, depending on the location, size, services and facilities available. The properties vary considerably in design, with everything from very contemporary, minimalist styles to traditional Thai and SE Asian influences. The villas appeal to the luxury investor and traveller because they are often also designed around tropical gardens with an infinity pool and separate units housing the bedrooms and living areas, giving the guests both privacy and space. With families or groups of friends, the rental prices are comparable to 5 star hotel accommodation, but  villas have the added advantage of being uncrowded with a homely atmosphere.
Koh Samui's tropical beauty, warm hearted and welcoming people, along with the ease of accessibility and facilities make it a very attractive option for investors, developers and holiday makers alike. National and international interest remains high with many people buying to rent, securing a second or holiday home or choosing to make their new home on the island. Strong international marketing campaigns, improved services and investment security has meant that people from countries like Russia and the Middle East have recently been drawn to the high-end villa market on Samui, which suggests that demand will continue to grow and diversify over the coming years.