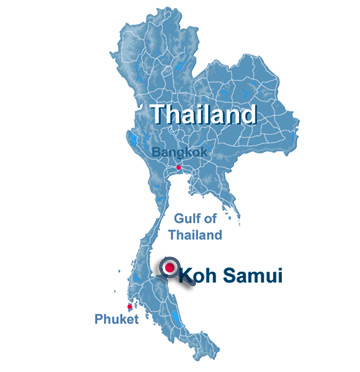 Rent Koh Samui

Koh Samui has become one of the premiere vacation destinations in South East Asia, comparable to places like Phuket and Bali in terms of the number of properties on offer for both short and long term rental. Thanks to its popularity, a number of agencies have opened on the island offering villas and associated services to clients, while guaranteeing an income for owners while they are not in residence. At the same time, villa rentals are now becoming increasingly popular as an alternative to hotel accommodation, which means demand for private retreats is on the rise.
Villas on Koh Samui range from one and two bedroom bungalow style properties to super luxury 8- to 10-bedroom mansions with huge infinity pools and indulgent amenities that include added amenities such as on-site gyms, AV rooms and tennis courts. Design concepts, configurations, locations and prices vary considerably, with high end properties renting for anything from 2000 to 5000 US dollars per night. Guests can also opt for mid-range villas, some of which still offer added facilities like private infinity pools, sun bathing terraces and outdoor bathtubs with spectacular sea views. Friends or families sharing a villa can enjoy all these advantages for as little as $100 a night per person.
Rental villas on Koh Samui generally come with live-in staff and an on-call villa manager to answer requests and enquiries. Well trained staff can also help with travel arrangements, tour bookings and recommend local attractions and places to see during your holiday. A daily cleaner keeps things clean and tidy and guests can also opt to hire the services of a private chef to cook sumptuous dishes in the villas kitchen and serve the meals out on the pool terrace.
Vilas like Blue Samui on the island's northern coast offer comfortable, private accommodation with spectacular coast and island views. Renting a villa such as this offers a personal, luxurious alternative to hotel or resort holidays and if families or friends decide to share the cost of the villa, they are guaranteed a supremely private, luxurious experience for the same or even lower rates than a good hotel.