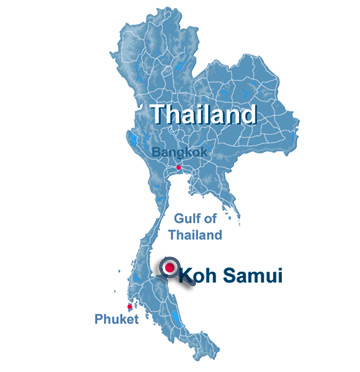 koh samui shared villa
Sharing a villa on Koh Samui not only saves money, it can actually make your holiday more fun and enjoyable, especially if you choose the right property to suite your shared needs. Many of the villas available for rent on the island offer an impressive range of rooms, on-site facilities and services. This means you can select the location, pool size, bedroom configuration and service concept to guarantee an enjoyable, pampered stay.
Groups of friends can get together to share the cost and benefits of a private villa. There is generally more than enough space to ensure a combination of communal and private holiday time and with a well-equipped kitchen onsite and easy access to provisioning, self-catering is a enjoyable option not available to hotel guests. Koh Samui now boasts several large supermarkets, as well as fresh seafood and a range of imported goods. There's no need to forgo any favourite dishes and mealtimes can even become special events as most private villas come with a barbecue unit for the ultimate outdoor feast.
Two or more families also have the option of sharing a large, private villa. Expansive gardens and communal areas mean the children have plenty of places to play and the adults can relax supervise from the pool or beach. At the very top end of the market, villas even boast dedicated AV and games rooms, so evening entertainment is well provided for and in many cases the on-site staff will also act as babysitters when parents want a night out on the town.
The option to share with family or friends also makes villas the ideal choice for special occasions. Villa weddings are increasingly popular on Koh Samui with the marriage ceremony, reception and guest accommodation all packaged into one. Dramatic locations, elaborate decorations and personal services can all be combined for a truly memorable day. As many villas offer an exclusive master suite, as well as individual guest bedrooms, once the couple is married they have the ultimate honeymoon location right on their doorstep.
A private villa can become the perfect venue for any shared celebration. The ideal choice for those looking to share some special memories with family and friends in a pampered and pleasing private environment.