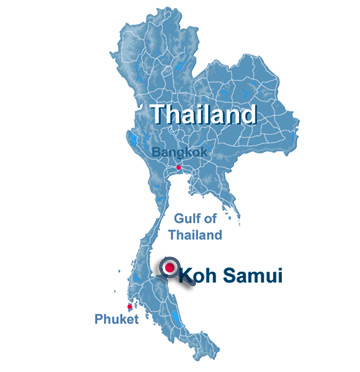 koh samui luxury holiday rentals
Koh Samui is fast becoming one of the top luxury villa destinations in Asia, thanks to the large number of private residences now completed on the island, offered for rent both through agencies and individual owners. Strong competition at the top end of the villa rental market means clients can now choose from an extensive suite of luxury properties and additional services. This has led to something of a boom on Koh Samui as the concept is takes off worldwide, creating steady demand for these extravagant private retreats.
Luxury holiday villas on Koh Samui range from simple, one or two bedroom properties set around a modest pool to vast 8 or even 10-bedroom mansions with 20-metre infinity pools and salubrious facilities such on-site gymnasiums and saunas, dedicated AV rooms and expansive outdoor dining pavillions. The contemporary designs, comprehensive facilities and superb locations offered by these luxury holiday villas  means that they can now cost anything between 2 and 5 thousand dollars per night, depending on location. Mid-range choices also abound for the budget conscious visitor, and even these cheaper properties generally feature on-site staff, private infinity pools and extensive tropical gardens overlooking stunning coastal views.
Renting a luxury private villa for your holiday means enjoying the best of all worlds. A personal villa manager replaces the hotel concierge, meeting special requests, making travel arrangements and booking tours, even recommending attractions and places to go around the island. A daily maid keeps things clean and tidy, while for the ultimate holiday treat, guests can enjoy the indulgence of a private chef to prepare sumptuous meals served directly from the villa's kitchen, enjoyed either indoors or al fresco, right by the sea.
Some of the island's finest holiday rentals are located in secluded, natural areas with long stretches of virtually private beach or spectacular views across forested hills down to the sparkling seas of the Thai Gulf. But thanks to the island's modest size, even the most remote villas are within easy access of Samui's main dining, shopping and nightlife areas.